Want to find job vacancies in the UK but not sure where to begin? These are the best online job boards in the United Kingdom.
CV-Library - UK's largest independent job board
CV-Library is a favourite of ours here at CV Engineer. If you want powerful search tools and alerts when relevant job vacancies open, you'll love this site.
Since launching in 2000, they've grown to become the largest independent job board in the UK. They have over 18 million users and 9,800 employers on the platform.
Their site includes search tools to help find the right roles for you. Many of the jobs listed accept one-click applications. CV-Library also have a mobile app so you can keep up-to-date with your job search on-the-go.
Additionally, CV-Library provides valuable career resources. These include salary guides, tax calculators, and interview advice. Use them to help refine your applications and secure that next job. Check them out here.
---
Monster: One-touch applications
Monster have over 20 years of experience in the job board industry. They maintain a strong presence in the UK market, with over 200,000 jobs here.
The site provides job hunters with advanced search tools and career resources. Use them to guide you through the application process. Monster's mobile app even includes a Tinder-style swipe right feature to help zero in on roles.
Another great feature is the personalised job alerts. Set these up and Monster will email you a list of the relevant jobs that open up each day/week. Definitely a CV Engineer favourite, it makes job hunting so simple!
Employers should check out Monster's Power CV Search. Its semantic search technology helps find the most relevant candidates in no time.
Check out Monster here.
---
Indeed - World's largest job board
Indeed is the world's largest job board and has a major UK presence.
They collect job postings from other job boards, company careers sites, and recruitment agencies. This means that for many careers, they'll have the most job vacancies to choose from. 10 jobs get added every second.
The search tools are powerful, allowing you to drill down and find the most relevant roles. Like Monster, you can set up job alerts to get a daily email summary of personalised new job openings.
Check out Indeed here.
---
Reed.co.uk - UK's first job site
Founded in 1995, Reed.co.uk was the UK's first job site. With over 7 million users and 220,000+ live job vacancies, it provides a huge amount of choice for job seekers.
A key differentiator for Reed vs other job boards is that they also have a recruitment division. Their recruitment consultants offer tailored services for both candidates and employers. If you'd like help during your job hunt, CV Engineer would recommend reaching out to Reed's team.
As Reed have both a job site and recruitment agency, they've forged strong partnerships across many industry sectors. This has contributed to their extensive and diverse job listings.
---
LinkedIn - World's largest professional network
Everyone knows LinkedIn, the largest professional social network in the world. They have 900,000,000 members and 54,000,000 companies. They're also one of the largest job boards.
LinkedIn job adverts tend to have more info than other job boards. You can see how many employees a company has, whether anyone in your network already works there, and how the skills on your LinkedIn profile match up with the job description.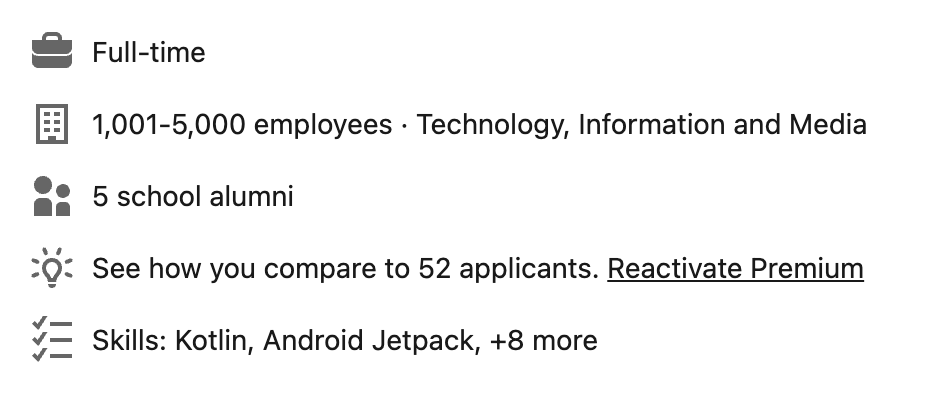 Their job search also has some powerful filters. You can search by country/city, experience level, full-time/part-time, remote work, plus a whole lot more.
CV Engineer recommends starting with a broad search to see what's available. Then narrow it down using the filters until you've got a list of jobs that excites you!
---
FAQ
Are job sites free to use?
Yes, all 5 of the job boards in this article are free to use. You can search for and apply to vacancies without paying anything.
A couple of the sites offer extra paid services. An example is LinkedIn's Premium subscription which lets you see how you compare to other applicants and view who's looked at your profile.
That said, searching for jobs and applying is most definitely free.
Will I need an up-to-date CV to make applications?
For the most part, yes. On LinkedIn, there are roles that you can apply to using your LinkedIn profile (which you should definitely update if you haven't already).
Even so, most LinkedIn job adverts and all vacancies on the other 4 job sites listed here need a CV to make applications.
How will I know when employers review my application?
Unfortunately there's no way of knowing if an employer has reviewed your application. You'll need to wait for the employer to contact you.
Should I apply for a job without required experience?
Job postings often resemble wish lists, not rigid requirements. Employers understand that perfect candidates are rare. However, avoid applying for positions vastly beyond your experience. If you possess some qualifications and believe you can thrive in the role, apply. Your skills might prepare you differently or enable quick learning. Customise your resume to highlight your relevant experience and enthusiasm. Even if you meet only 75% of the requirements, you could still be the strongest candidate.
Should I follow up after an interview?
Following up can improve your hiring prospects by keeping you memorable. Send a thank-you email within 24 hours, briefly mentioning a topic from the interview. If weeks pass without a response, send a check-in email or connect on social media, demonstrating continued interest without being pushy.
Should you write a cover letter?
Cover letters are crucial for introducing yourself, showcasing your distinct qualities, and addressing potential red flags. Always include one with your application, unless the job posting specifies otherwise or the online submission lacks a cover letter field.
---
Final thoughts
Each job board will be better for certain professions vs. others. It takes a little searching to find the best for your job hunt.
We'd definitely recommend using more than 1 to keep your options open. Most of the sites offer job alerts so you get an email/push notification when new jobs open that match your search requirements.
If you need to create a CV first, then check out CV Engineer's resume maker app.